Did you know that the glutes and the hamstrings are the largest muscles in your body? They extend, rotate and abduct the hips. They also contribute to stabilization of the pelvis during walking and climbing. Not only do you want your glutes to look good, but you want them to work well. Strong glutes and hamstrings help improve posture, alleviate lower-back pain and increase bone density. When you increase your muscle mass, you burn more calories at rest. For every pound of muscle mass, you burn an extra 50 calories.
Posture Improvement:
Many of us suffer from poor posture, tight and short hip flexors, weak and overstretched hip extensors, and glutes that forget how to activate properly. This contributes to posture deviations such as lordosis (also known as "swayback") and kyphosis (hunched back). The quickest way to slim your profile is improve your posture.
Alleviation of Lower-Back Pain:
Strong glutes support the lower back, and when they aren't strong enough to perform their hip extension function, other muscles will perform the job and may become overstressed, resulting in compression of the spine, hips and knees. The glutes are hip stabilizers. When weak, poor alignment of the lower body will leave you prone to injuries such as shin splints, Achilles' tendonitis, sprains and tears of the anterior cruciate ligament (knee ligament), and iliotibial band syndrome (side of leg). Improve your hips by strengthening your glutes with hip thrusts and by performing bridging exercises.
Increase of Bone Density:
Bone density peaks five to 10 years after we reach skeletal maturity. By the time you are 30 years old, damaged bone is reabsorbed faster. The new bone is formed, resulting in increased risked of osteopenia (lower-than-normal bone density) and osteoporosis. Exercises that place mechanical stress on the bones include lower-body exercises, running and walking and can even reverse the effects of age-related bone density loss. The sooner you start strengthening your bone density, the greater the benefit to the skeletal system.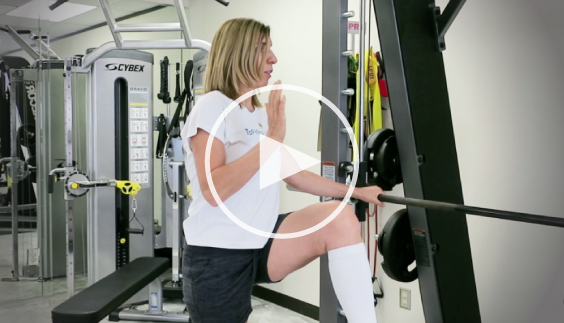 Video: Hip Stretches – Loosen Stiff Hips
Now that you know the benefits to strengthening the hips, it's time to get into action by clicking the video link above. You will see me demonstrate some powerful stretches that will loosen stiff hips and get you moving, for a happier, healthier you.