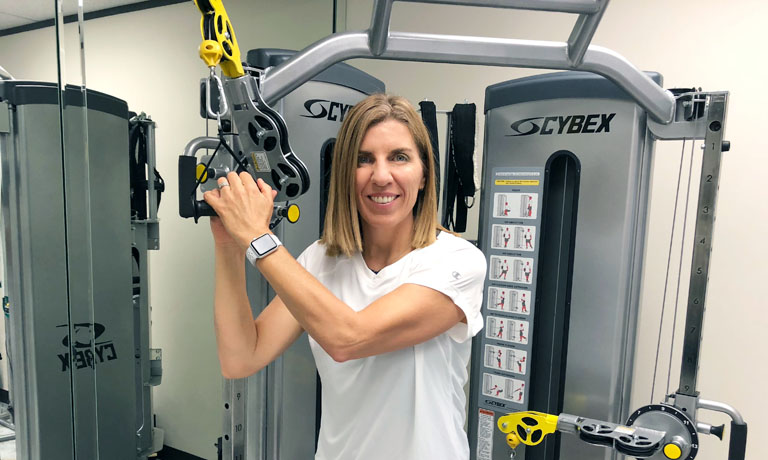 Birgitt Haderlein, elite trainer, ACSM- and ACE-certified health and fitness coach
"Hi, I'm Birgitt Haderlein, a health and fitness coach in the Greater Houston area. I have been in the fitness industry for over 28 years helping people feel and look their best!"
In 2014, I opened To Fit You Fitness Studio right in the heart of Lazy Brook and Timber Grove, conveniently located off the 610 Loop in Houston, Texas. I remember driving in downtown Houston 28 years ago thinking, "What can I call my business?" The license plate on the car in front said, 'To fit 4u', and I thought I can call my company To Fit You!
I knew it was a great fit for my philosophy — people are different, so exercise routines should be made tailored to fit their needs. So as everything that has happened in my life, it happened for a reason, and that's the day my company came to life.
I have helped countless clients, and I've helped corporations like Exxon, Shell and various entrepreneurial businesses increase their bottom line by improving their employees' health. It is important to me, as a certified wellness coach, to create better solutions for my clients to have better awareness far after our sessions together.
I am passionate about helping people be better employees, parents, friends, business owners and pet owners, by teaching them how to make good choices for their lives and creating a healthier environment.
I also teach meditation stretch classes — I believe it is so important for people to learn how to relax. The meditation component has helped my clients increase their creative energy. I teach them to be present to create a new level of awareness so that they can create the life they want.
I have been meditating and going to classes with Dr. Joe Dispenza and learning quantum physics and the function of the brain. With this experience, I can facilitate classes that can teach people how to enjoy their day to the fullest. I have overcome many ailments from chronic pain from car wrecks to those that come from being an athlete. I have learned through meditation how to create change physically, emotionally and energetically.
I believe in teaching people that they need to be the change they want to see in others. So if you or your company, family and friends want to increase their health and happiness, I'm here to help people get results. I invite you to connect with me to talk about how I can help you. Feel free to email or call me to set up a complimentary consultation.
In good health,
Birgitt Haderlein